Protex! Electrolytic Disinfection
SOCOTEC's innovative Protex! Electrolytic Disinfection (ED) device kills harmful bacteria in large-scale water systems, minimising the use of chemicals.
What is Protex!?
Developed by SOCOTEC in the UK, the Protex! system disinfects water by electrolysis, using a direct electric current to kill any pathogens by generating disinfectants from the chloride ions naturally present in the water. This also provides the residual disinfection needed to inhibit bacterial growth.
 
Requiring minimal maintenance, Protex! is more economical than traditional methods of water treatment, and is safer in use as there is no requirement to handle or store chemical disinfectants.
 
The product also increases the carbon efficiency of domestic hot water systems in buildings as it potentially allows water temperatures to be reduced from 60°C to 45°C. It is estimated that UK non-domestic buildings could generate energy savings of up to £62 million through the use of Protex!
Proven Results
Protex! was created from a three-year study conducted in collaboration with Brunel University London, overseen by Professor Tassos Karayiannis, Dr. Edwin Routledge, and Martin Ratcliffe. The device is the first of its kind to be proven effective in a real world environment.
 
The effectiveness of Protex! was observed at a medical centre, and monitored by Brunel University London over a two year period. The study proved the effectiveness of the device, and led to Knowledge Transfer Partnership funding being awarded by the UK Government's Innovate UK scheme.
 
The minimal requirement of chemicals makes Protex! ideal for use at healthcare facilities where the wellbeing of patients is paramount. The water disinfection system is playing a key part in supporting Chilterns MS Centre in meeting regulatory requirements and preventing the growth of legionella bacteria.
Key Benefits of Protex!
Inhibits bacterial growth
Requires minimal maintenance
Reduces the need for chemicals
Allows hot water systems temperatures to be lowered
Promotes carbon efficiency
Cuts costs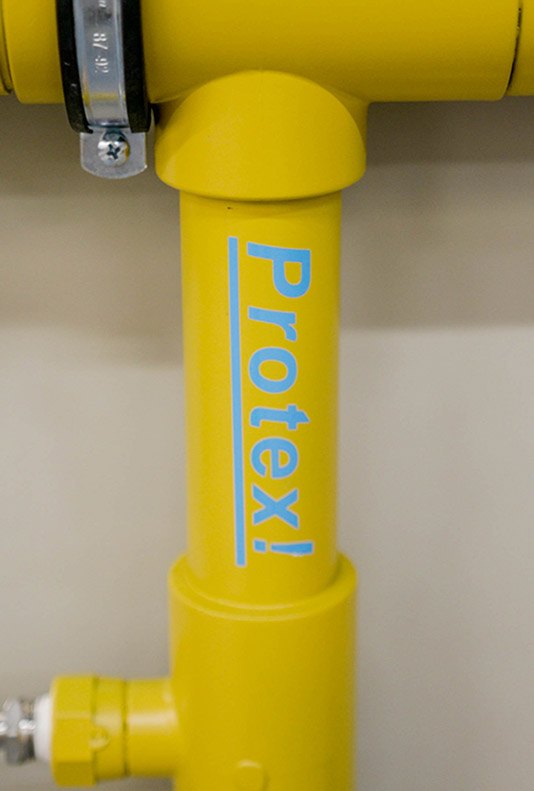 Water Equipment
Protex! FAQs
Learn more about Protex! with our frequently asked questions
Read our Protex! FAQs
Learn more about Protex! with our frequently asked questions