Coping With COVID – A collaborative approach to geotechnical site investigation during social distancing
Mon 04/27/2020 - 13:19
A collaborative team comprising senior figures from Geotechnics Ltd and SOCOTEC UK Ltd, with the assistance of Macklin Geotech, have devised a safe system of work for geotechnical site investigation (GI) in line with the UK government and industry guidelines on social distancing.
Both companies were acutely aware that there were numerous situations in the everyday operations of a GI where the 2m social distancing guidelines could be breached. To this point, one option would be to use Respiratory Protective Equipment (RPE) and Personal Protective Equipment (PPE), but with the NHS in urgent need of these vital resources, alternatives had to be found.
The team has used the standard hierarchy of control model to rework the risk assessment process using the PPE option as a last resort.
It is clear that the COVID19 virus is not going away anytime soon, so that alternative engineering and behavioural changes are needed if site operations are to recommence in safety.
Several risk mitigation and social distancing models were trialled by experienced drilling managers from both organisations, using real operational scenarios and rig types in common use across the industry. The team have created acrylic screen guards which provide a transparent impact resistant barrier and can be fixed to both cable tool and rotary rigs without affecting the working operation or integrity of the rig.  The guard is similar to those seen in major supermarkets across the UK, is lightweight, strong and can be attached/removed by one person in less than one minute. The screen effectively separates the driller and assistant where operations close to the rig controls and drill table are required.
Further engineering controls are provided by establishing two distinct work zones within the standard wider work area. A physical barrier, using either chapter 8 barriers or retractable hi-vis tape attached to magnetic clamps, segregates the work areas of the assistant driller at the front of the rig and the lead driller to the rear, and acts to change behavioural patterns by preventing inadvertent close proximity working.
The team also recognised that numerous manual handling activities involved in GI require two-person lifts, where it is impractical to replace with a mechanical lift, and this results in those persons encroaching on the established 2m social distancing guidelines. These activities include but are not limited to moving core boxes, casing, drill rods, barrels and tooling.
The safe system of work includes the use of manual handling aids similar to that in the picture above using rated slings and pole. The pole is 2.4m long with bespoke hand grips on either end for comfort.  Each person secures the straps individually to maintain social distancing and the lift is completed together. This system can be used on numerous drilling tools for both rotary and cable percussion methods. The knowledge and manufacturing expertise of trusted drilling equipment suppliers has been commissioned to produce casing handling tools. These tools comprise a grip which slides over the end of the casing so as not to damage the threads and a long handle so that, when lifted from either end, those involved in the lift do not come within 2m of each other.
It is acknowledged that there are some instances in the course of a GI where maintaining social distancing is impossible, such as when two lengths of cable percussion drill casing is fast and requires two persons to break out, or similarly with a sampling barrel on a rotary coring drill string. In these instances, when the team must encroach on the physical barriers, work would be halted and a point of work risk assessment completed. 
The team have also collaborated in the production of instructional videos, an interactive toolbox talk and a Standard Operating Procedure to aid with the education and familiarisation of those involved with the tasks. Trials will be held on live projects, and senior site staff will be delivering toolbox talks, guidance and mentoring to supervisors and drill crews. Auditing processes have also been developed so that adherence to the new systems can be monitored and feedback can be obtained to advise further improvements.
"The 'Coping with COVID' strategy is the result of two of the UK's leading GI specialists pooling their knowledge and experience to develop a joint safety initiative. Both companies took the decision to suspend site operations in order to follow the Stay Home, Stay Safe, Protect the NHS guidelines, but have used the intervening time to focus on the wellbeing of all our staff as we work out how we can return to site. The technical expertise of many leading professionals in our two companies and our supply chains has developed systems and equipment which I believe will be readily adopted by the site teams and drill crews and which will allow safe working."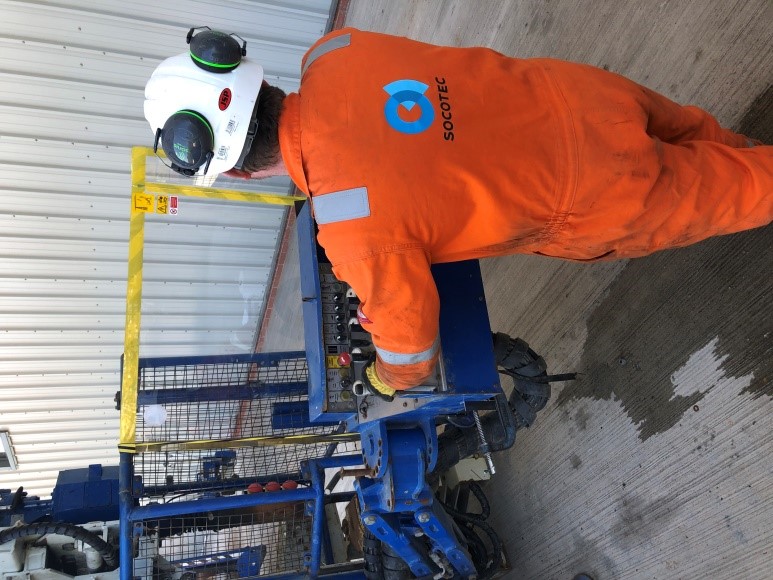 SOCOTEC GI Operations Director Clare Chapman added: "For three companies to come together and share resources, knowledge and ideas, has been a real pleasure to be part of.  The innovation and collaboration in achieving a common goal is a really refreshing approach considering we are generally competing against each other. I strongly believe that the 'Coping with COVID' strategy will set the example in our industry when it comes to keeping our staff safe in these unprecedented times."